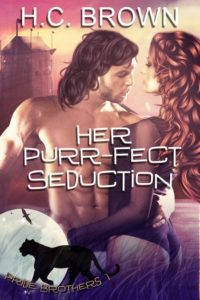 Happy release day to H.C. Brown with Her Purr-fect Seduction. This is the 1st book in the Pride Brothers series. Her Purr-fect Seduction is the delicious tale of Dare, a black leopard shape-shifter, and Jill, a sassy redhead from New York.
Trapped in a medieval world, will Jill win her captive's heart before the delicious shape-shifter sells her into slavery?
Jill Morfranna, a sassy redhead from New York, is enjoying a photo shoot in the Scottish Highlands when she stumbles into an alternate realm. Trapped in a frightening world of strange creatures, her life turns upside down when a sinfully handsome shape-shifter kidnaps her. Will she win Dare of Knight Watch's heart or will he trade her for his sister at the next slave auction?
Her Purr-fect Seduction is available from all good distributors and Luminosity HERE