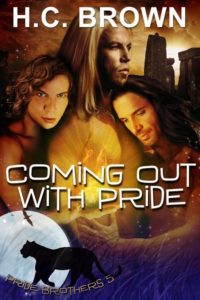 Happy release day to H.C. Brown with Coming Out With Pride. This is the 5th book in the Pride Brothers series, and is a totally new BDSM Gay Paranormal Romance and is so HOT you will need a new e-reader!
Prince Jannus of Knight Watch turns his back on tradition and seeks a male for his mate. His preference is for a human to submit to him in and out of the dungeon.
Once a year at Samhain, he opens the gate to his world and sends his faithful Elf to collect suitable men for him and the other Doms seeking delicious subs for mutual pleasure.
Brad Archer's desire to come out and find a strong handsome Dom has become an obsession. Heading to Stonehenge to join a festival, he meets a stranger who lures him to another dimension crammed with Doms more than happy to take him for a walk on the wild side.
Available fro all good distributors and from Luminosity HERE