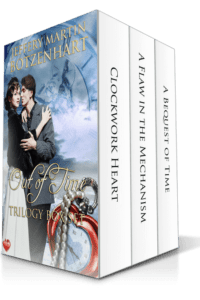 The Out of Time Trilogy Box Set by Jeffery Martin Botzenhart is now on pre-order:
Until the end of time…and then beyond…
Would it be a crime against nature to help those in need by the use of unusual and possibly illegal medical procedures? Victoria begs her father, a brilliant physician, to commit such a crime for the man who she has forever fallen in love with. Trevor was critically injured by enemy artillery while fighting on the Western Front. Victoria hopes that through the restoration of his damaged body, their love will flourish once he is well again.
Unforeseeable revelations and unimaginable confrontations create havoc for the lovers. Will Victoria and Trevor find a place where their love will last for eternity…or has time run out?
PUBLISHER NOTE: Out of Time Trilogy Box Set, contains Clockwork Heart, A Flaw in the Mechanism, and A Bequest of Time. 54,072 words complete.
Purchase from Luminosity HERE