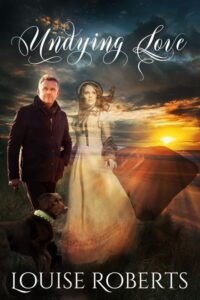 The latest release by Louise Roberts is a fantastic Ghost Story. UNDYING LOVE shows that even time cannot keep soul mates apart.
What if you discover your long-lost soulmate is a lingering spirit; how far would you go to be reunited?
What if "love at first sight" was no more than two soul mates recognising each other through eons of time? But what would happen if one of those such souls was a lingering spirit, whilst the other had reincarnated into another human life form? If that were the case, how far would anyone go for the sake of love to be reunited?
For Peter Grant, the moment he steps into a house for sale in a coastal hamlet in Norfolk, England, a feeling of déjà vu descends on him, and the need to purchase the cottage is overwhelming.
Divorced and retired, he has ample time to enjoy the peace and quiet of his surroundings, with just his faithful dog for company. The only distraction is the nightly sound of a woman weeping . . .
READER ADVISORY: Supernatural themes and graphic sex scenes.
PUBLISHER NOTE: Contemporary Supernatural Romance. Ghost Story. 41,800 words.
Available from Luminosity CLICK HERE
Available from major distributors CLICK HERE