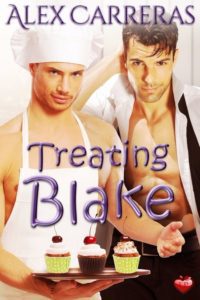 Happy release day to Alex Carreras with Treating Blake. This a wonderful gay romance, filled with passion, suspense, and a wonderful helping of humour.
After a disastrous appearance on the hit reality TV show, Eye in the Sky, Justin Kilburn decided to open a bakery in his hometown of East Aurora, New York.
With all that behind him, he sunk his heart and soul into opening, Olivia's, a bakery named after his mother who died of cancer when he was a boy.
Everything was going just as planned except for his escalating feelings—and libido—for Blake Williams, Jr., local hottie and Justin's landlord. But Justin promised himself he would stay away from men, especially those who look like Blake.
Blake Williams, Jr. doesn't intend to stay in East Aurora for too much longer. But before taking his rightful place at the company's headquarters in New York City alongside his father, he has to prove he deserves the position first. With his numbers good and goals being met, Blake's focus begins to blur due to the handsome baker from across the street. He was definitely not a part of Blake's plan.
But like his tasty treats, Blake can't resist taking a bite … then another … and then another.
Reader Caution: This story contains hot men and even hotter buns, some you can eat and some you just want to savor slowly. Consider this to be your only warning so don't get burned!
Available from Luminosity HERE