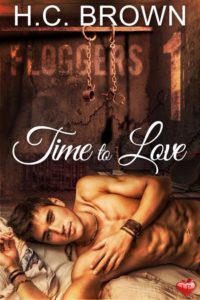 Happy release day to H.C. Brown with Time to Love. This is the first book in a wonderful new series called, Floggers. Floggers is a gay BDSM club, catering for the more discerning. Expect hot scenes and even hotter writing as H.C. takes us on a journey we will never want to forget.
Jay Bannock is living a lie.
Sure, he likes women. In fact, he respects women but when he tries to kiss one and she does that tongue thing, he wants to spew.
Confused by his growing attraction to men, Jay seeks help from the only gay club he knows—Floggers BDSM Club.
Has he lost his mind?
Realization, he has been batting for the wrong team all his life comes in the form of a six-foot-seven Adonis by the name of Matt Duffey.
Instantly attracted to the leather-clad Adonis, Jay's complicated life spins out of control on a rollercoaster ride wrapped in Matt's arms.
Available from Luminosity HERE