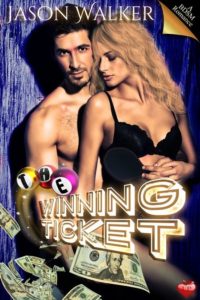 Happy release day to Jason Walker with THE WINNING TICKET. A BDSM Romance follows the story of Jack and Amelia as they go from a cleaner and her boss, to Master and submissive. A perfect summer read.
He won millions in the lottery but soon found out that finding the perfect woman was worth far more than that.
Jack West had a good day. On a lark, he purchased a lottery ticket. Little did he know that within twenty-four hours he would go from being a regular guy to a millionaire? He quickly discovered that money can't buy happiness, but a chance discovery changed all that. He couldn't have predicted that a lowly cleaning lady would become the most important woman in his life. It was clear that being rich was nice, but finding a perfect submissive mate was better. Sometimes it's nice to win on multiple fronts.
READER ADVISORY: This book contains scenes of Domination and Submission, sex toys, punishment and reward, a wealthy Master and the discovery of the perfect woman clad in a housecleaner's outfit.
PUBLISHER NOTE: A M/F BDSM Romance, containing bondage, spanking, paddling, anal sex, and sex toys. 30,990 words.
Available from Luminosity here: CLICK HERE