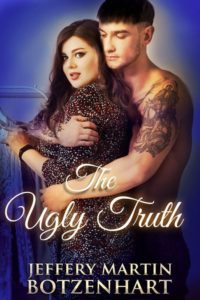 Happy release day to Jeffery Martin Botzenhart with THE UGLY TRUTH. A wonderful short story focusing on whose opinions matter most–acquaintances or those who love us for who we are.
When Candace looks in the mirror at her reflection, she sees what other people think of her. Having for so many years been ridiculed for her weight issues and hearing people tell her she's not pretty, this is the ugly truth about herself that she accepts. What she never expects is to find love with someone who sees her in a different way.
Fisher, a blind, honorably discharged ex-marine, confesses his love to her. As much as she has longed for the attention of this handsome man, she worries that when he touches her, he'll find out what others see and reject her. What she learns from him is that love is more than visual attraction. He sees her in different ways, not only encouraging her to see the truth about herself, but also the truth of others in her life.
The truth isn't always ugly. At times it's beautiful.
PUBLISHER NOTE: Contemporary, Inspirational, Rubenesque, M/F Romance. 10,500 words.
Available from Luminosity CLICK HERE