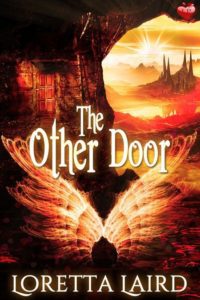 Happy release day to Loretta Laird with her Fantasy Paranormal Romance, The Other Door.
Banished to a realm below ground the Sheeman have waited for a chance to find the elusive key that will save them from the oppression of Keira Queen of the Fae and open the legendary door back into the human realm. None are keener than Lek, a golden-winged warrior who yearns for a time he has only heard of in tales from the old ones.
Freya often wonders why she is different. Her appearance is not like any other person she knows and she craves sex like the air she breaths. Spilt blood and a doorway between realms unlock a heritage and a destiny she has never before imagined.
When Sheeman and humans meet once more what secrets will be uncovered and will Freya and Lek manage to defeat Keira and unite the realms?
Reader Advisory: This book contains highly-sexed characters; a heroine who wonders what makes her different and a sexy Sheeman (unpredictable cousins of the fae). Destiny has never felt so good!
PUBLISHER NOTE: Fantasy Romance. 44,500 words.
Available from Luminosity CLICK HERE
Available from major distributors CLICK HERE