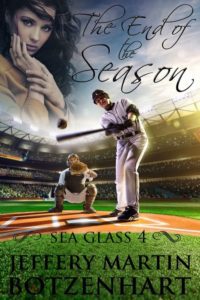 Happy release day to Jeffery Martin Botzenhart with The End of the Season – the 4th book in the Sea Glass collection of short stories.
What happens to the boys of summer when there are no more seasons? Where will they go?
The end of the 1941 season has arrived for two baseball players. Eighteen-year-old Eddie Tanner and thirty-two-year-old Sam Trask are two of the finest to play the game. Yet neither received the call to move up to the major league.
For Eddie, there is no going home. Saying goodbye, not only to baseball, but to the girl he has fallen in love with, he leaves for a future somewhere unknown. For Sam, there will be no more seasons but just maybe the salvation of falling in love.
The relief of receiving a letter from Pearl Harbor lets Sam know where Eddie has found himself. This revelation also restores feelings of love that were thought long lost. Within days, however, the world is then plunged further into the darkness of war.
What remains within broken hearts are distant, warm summer memories … from the end of the season.
Available in all good distributors and from Luminosity HERE