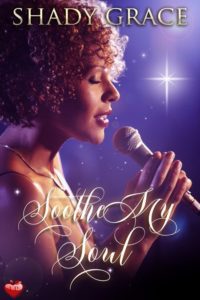 Happy release day to Shady Grace with her emotionally packed short story, Soothe My Soul. The perfect read to while away the lonely hours.
A lounge singer, haunted by the past, Nina Grey pours her soul into her music and her trysts with women. But having a sexy roommate like Jordan, who looks at her like he can read her thoughts, makes her question her true desires. Would one night in his bed ease her turmoil, or complicate their friendship?
Jordan Martin views Nina like a glass of fine scotch, yet two things stand in his way. Nina claims that she doesn't like men, and she doesn't know a thing about his jaded life either. But when her past catches up with her, and secrets are exposed, Jordan is forced to show his true colors, or risk forever losing the only woman who stirs his soul . . .
PUBLISHER NOTE: Erotic Interracial Contemporary Romance. Short Story of 9,700 words.
Available from Luminosity CLICK HERE