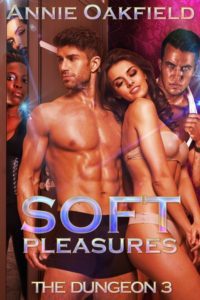 Happy release day to Annie Oakfield with the 3rd book in The Dungeon series, SOFT PLEASURES.
What goes on in The Dungeon, stays in The Dungeon.
Angie Henderson has landed her dream job as a security guard at the underground adult playground known as The Dungeon.
The Dungeon is crammed full of temptation, and irresistible forces draw her toward the clients' naked pleasures.
But indulgence is forbidden by her employers, with severe punishment for transgressors.
But Angie and her fellow guards inevitably find ways to play . . .
READER ADVISORY: Contains nudity. And orgies, threesomes, foursomes, guys with guys and girls with girls. Whew. *Fans self*
Available from Luminosity CLICK HERE