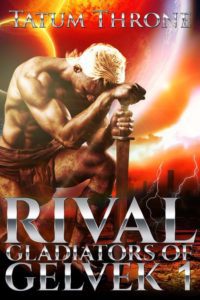 Happy release day to Tatum Throne with Rival, the first book in a brand new, erotic, gay sci-fi series called Gladiators of Gelvek.
Would you leave Earth for an alien who wanted you?
It's the year 4044. On Earth, Gage Smith works for the government, trying to figure out how to save his dying world. After a quadrant fails, Gage loses hope—that's until he figures out a way to harness the lightning storms that plague Earth and opens a wormhole. He lands on the planet Gelvek where he's found by a trafficker.
Yorn is a gladiator who has taken over his brother's contract. After he fights, he needs his venom milked from his stinger or he could die from the toxicity. That has him meeting with the trafficker to see if he's found a male able to take his venom without dying. He buys Gage.
Gage is sold into slavery where he quickly falls for the brutal gladiator who owns him. Despite his lust for Yorn, Gage knows he needs to find a way back home. Can he save his world and his alien lover before it's too late?
Reader Advisory: This book contains scenes of alien sex with a human, including forced seduction.
Available from all good distributors and from Luminosity HERE