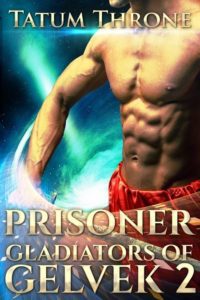 Happy release day to best-selling author, Tatum Throne.
Prisoner is the 2nd book in the Gladiators of Gelvek series. This gay sci-fi romance contains all the spice you need to lighten your mood now that Autumn is just around the corner. With scenes of bondage, and male pregnancy it is sure to please romance fans.
What would you do if gladiators held you prisoner?
It's the year 4044. On Earth, Trevor Sley's job is to save the world, and he's failed. All quadrants will go dark in six months. After working a long night, Trevor is accused of murdering his missing roommate, Hunter. With no choice, he runs … right into a wormhole.
Kelin is a seasoned gladiator who sees a human cross through a wormhole. Defying the Elite, he goes after the imprisoned male. He's going to need this human to milk his venom after fights or he could die from the toxicity. Will the male obey willingly or will he have to chain him?
Life on Gelvek is dangerous. Trevor quickly discovers that he needs Kelin to survive. Despite their intense attraction, he is afraid of the gladiator. Will his gladiator live or will he lose him and their unborn child in the arena?
Reader Advisory:  This book contains scenes of hot alien gladiator sex with males from Earth and male pregnancy.
Available from all good distributors and from Luminosity HERE