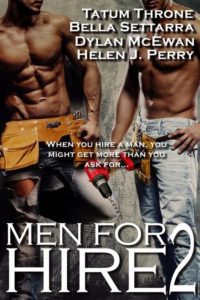 Happy release day to the authors of Men for Hire 2, our highly erotic and scintillating gay anthology. Tatum Throne, Bella Settarra, Dylan McEwan, and Helen J. Perry have really done themselves proud. Each story will melt your heart and your e-reader!
'Men for Hire' – that's the name of Jennifer Archer's firm in London offering people to do any job. What her clients get, in addition to skilled men, are some rather hunky specimens of the masculine race. When a man takes off his shirt and shows his pecs, can any man resist?
Subcontractor by Tatum Throne
Rough and ready cowboy Owen Murray is a Dom, who has taken a job as a handyman in England for a change of scenery. When the complicated renovation he's working on gets a little too intense, he knows he has to quit before he makes one of the biggest mistakes of his life.
Peter Crawford doesn't advertise that he's related to the Royal Family. When he falls for the hard-edged handyman renovating his country home, he knows he has to take a chance and become his submissive. Will his Dom love him in return or will he leave forever?
M/M BDSM Red-Hot Romance
Three's a Crowd…? by Bella Settarra
Callum sees his would-be boyfriend, Sean, drinking with handsome Tristan Makepeace and fears that Sean has no interest in him. Knowing Sean is a very adventurous lover, Callum worries that his own staid attitude has sent the Irishman in to the arms of another.
Upset, Callum leaves, but when his car breaks down, Men for Hire send Harrison and Abe, two hunky mechanics whose 'roadside manner' exceeds all Callum's expectations.
After having the 'ride of his life,' ménage-style in the back of the mechanics' van, an enlightened Callum returns to find Sean still with Tristan. Instead of feeling threatened, Callum now sees the handsome interloper in a whole new light…
M/M/M Ménage Red-Hot Romance
Wyndersham Heights by Dylan McEwan
When Jason inherits Wyndersham Heights, he has no idea how much it will change his life. He uses Men for Hire to employ a work crew to renovate the derelict mansion and can't help falling quickly for the charms of ruggedly handsome, hunky foreman Ethan.
Ethan is older, wiser, more worldly, and introduces the boyish Jason to his first taste of BDSM.
But Jason's troubled background threatens their budding relationship. What is the secret of Wyndersham Heights and will Ethan be able to help Jason let go of the past and embrace the possibility of a future with him?
A steamy gay romance.
M/M BDSM Red-Hot Romance
Four Days' Work by Helen J. Perry
It's his first job for Jennifer Archer's Men for Hire agency. Carpenter Craig is new to London and will be working alone with a gorgeous guy who sets his pulse racing. But is Todd gay or straight? They've got four days renovation work together for a sexy female client who has the hots for at least one of them.
After an acrimonious breakup due to his bisexuality, Craig is hesitant about coming out, but Todd makes all the moves when a new bed is delivered.
A humorous tale of men who aren't afraid of getting dirty together on top of the dust sheets.
M/M Red-Hot Romance
Available from Luminosity HERE