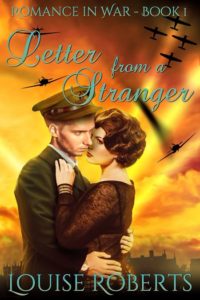 Happy release day to Louise Roberts with Letter from a Stranger. This is the first book in the Romance in War series.
A letter from a stranger is meant to boost the morale of front-line troops. For one soldier romance blissfully awaits…
At the outbreak of the Second World War, in Britain, women were encouraged to write letters to the men on the front line. For Jean White, this would lead to a friendship with Bill Brooks, an anti-aircraft gunner with the Royal Artillery serving on the south coast of England at the height of the Blitz.
As German aircraft drop their deadly payloads over London and devastate most of southern England, the relationship between Jean and Bill blossoms. Through their correspondence, at first and then when they finally meet. It's as though the world has stood still. A quiet weekend away from London strengthens their bond and romance blissfully flourishes.
As the war intensifies and Bill's impending departure to foreign shores looms ever closer their future together seems insecure, until a few days before his departure when Bill proposes marriage. Will Jean accept the proposal or will doubt keep them apart?
Letter from a Stranger is available from all good distributirs and from Luminosity HERE