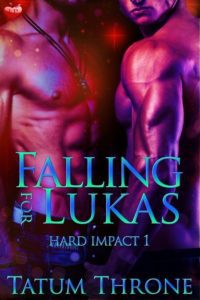 Happy release day to Tatum Throne with Falling for Lukas! The first in a brand new series called Hard Impact. Vampires, shifters, and angels vie for supremacy in this Gay Paranormal Romance.
When the leader of the Fallen must marry, he chooses a human male. Will Lukas marry Kane or will he run?
Detective Lukas Steele works with the Kenton Police Department. One evening he's kidnapped and taken to an arena to fight for his life while vampires watch. When he's saved by another vampire, he quickly discovers that his rescue comes at a price.
Kane is the leader of the Fallen, a race of vampires who are fallen angels. Backed into a corner, he needs to marry if he is to stay among the human world. When he saves Lukas from the arena, he's determined to win him over and marry him.
As Lukas's world collides with Kane's, he discovers that he must do everything in his power to protect Kane and the vampires of his world. Falling hard for Kane wasn't what he planned on doing, but can he really leave his life behind and marry a vampire?
Reader Advisory: This book contains scenes of vampires having hot sex with humans. This book contains M/M sex!
PUBLISHER NOTE: M/M Paranormal Romance. 29,152 words.
Available from Luminosity HERE