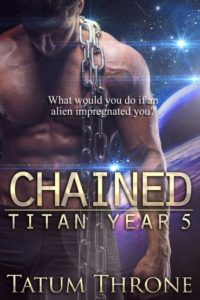 Happy release day to Tatum Throne with Chained, the 5th book in her best-selling gay romance, sci-fi series, Titan Year.
What would you do if an alien impregnated you?
Prince Tavek Salvin has been captured by his brother. Caged and tortured, he's been released into the mountains to be hunted. The first person to bring his head to his brother will earn breeding rights with a male from Earth.
NASA scientist Ryan Kodiak has been sent to Puerto Rico to find out why his co-workers are vanishing. It's not long before he discovers that they've made contact and those aliens have returned. Forced to fight for his freedom, Ryan convinces his captor to let him participate in the hunt. His only chance of survival is to find the prince before anyone else does.
Tavek has spent his life making mistakes. A virgin, he is desperate to find love and never expects to fall for the male who intends to save him. The only chance he has at an heir is to secretly impregnate this male and to run from this world. Will Ryan forgive him when he finds out what he's done?
Reader Advisory:  This book contains scenes of hot alien sex with a male from Earth.
Available from all good distributors and from Luminosity HERE