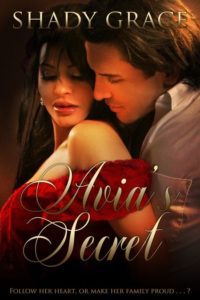 Happy release day to Shady Grace with her Erotic Historical Romance, Avia's Secret. This story is full of passion, adventure, and romance!
Follow her heart, or make her family proud . . . ?
Avia Rockwell—heiress to Melina's Vineyard—must find a suitable husband. But one forbidden kiss from Cade Kildare, a childhood friend and rakehell foreman, makes all of her promises fall to pieces. When her father insists on a match with a respectable gentleman caller, Avia is forced to follow duty over her heart.
She is far beyond his reach, yet Cade cannot help himself from tormenting Avia at every turn. She's willful and wild, and everything he desires in a woman. No man will ever be good enough, and as Cade uncovers secrets that could rip her world apart, he will do anything—even give up his life—to save hers.
From Northern California's wine country to the earthquake that shattered San Francisco, two lovers battle each other and the evil forces bent on tearing them apart.
READER ADVISORY: This book contains scenes of argumentative behavior between a stubborn hero and fiery heroine, hot sex, wicked adventure, and a little twist.
Available from Luminosity  CLICK HERE