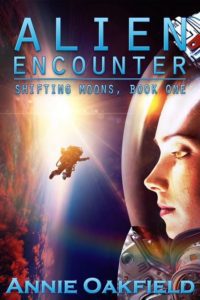 Happy release day to Annie Oakfield with Alien Encounter, the first book in a brand new Sci-Fi series.
Mankind's fascination with Mars is about to take on a brand-new twist.
Three months after all contact is lost with a previous mission, NASA scrambles together a brand-new crew and launch their proposed relief mission sixteen months early in an attempt to solve the mystery.
But the peculiar crew dynamic quickly leads to a constantly-changing set of relationships, where sharing becomes normal, as does group and bisexual activity.
Flight Engineer Will Carmichael suspects the crew's mixture of tastes, as well as the inclusion of NASA's first transgender astronaut, has been deliberately orchestrated.
But what could possibly be gained from such a diverse spectrum of preferences?
READER ADVISORY: If you are offended by the idea of six astronauts having frequent and messy sex with men, women, and transgenders . . . at least tell your friends. They might love it!
PUBLISHER NOTE: Contains erotic scenes — Voyeurism, M/M/F, F/F, M/M, and Transgender sex. 35,900 words.
Available from Luminosity CLICK HERE