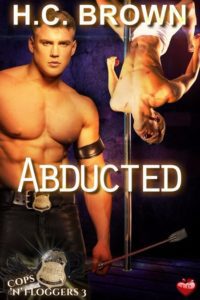 Happy release day to H.C. Brown with Abducted, the 3rd book in the sexy Gay BDSM series, Cops 'n' Floggers. Abducted is a wonderful roller coaster ride that readers are sure to enjoy.
Bad boys, bad boys
After stripping at Safeword, Thorn is abducted by Master Riley, the tall, blond and sexy Dom he noticed in the audience. Taken to a private dungeon, the last thing he expects to find is three sex-starved Doms waiting to punish him.
During a weekend of incredibly erotic multiple partner scenes, Thorn discovers his idea of BDSM was well off base.
Disillusioned with men after his previous Dom betrayed him, he wonders if Master Riley—Mr. Tall, Blond and Sexy, is the one man to make him fly.
Reader Advisory: This Gay Romance series contains scenes of BDSM and hot sexy undercover vice cops out to find their perfect subs
PUBLISHER NOTE: M/M (M/M/M/M) BDSM Romance, containing themes of anal double penetration, flogging, and bondage. 13,767 words
Abducted is available from Luminosity HERE