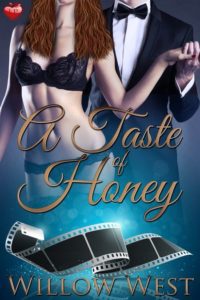 Happy release day to Willow West with A Taste of Honey. This erotic, contemporary ahort story is the perfect read, and follows the love life of Beau and Honey as they reconsider their priorities.
Honey West is prepared to do anything to get the part. Kneeling before her sleazy new boss, she meets Beau Knight, the sexy co-director of the adult movie she plans to star in. Can she keep her new boss at bay or will their obvious attraction throw a spanner in the works?
After the first day of filming, Honey and Beau give in to their mounting desire but what will happen at work the next day when Honey is due for full penetration?
Reader Advisory: This book contains scenes involving the sex industry, and a woman willing to lay it all on the line!
Available from all good distributors and from Luminosity HERE