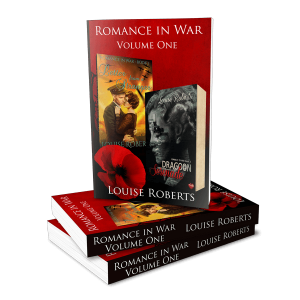 New paperback released by Louise Roberts. Romance in War: Volume One contains two stories from the Romance in War series:
Letter from a Stranger
A letter from a stranger is meant to boost the morale of front-line troops. For one soldier romance blissfully awaits…
At the outbreak of the Second World War, in Britain, women were encouraged to write letters to the men on the front line. For Jean White this would lead to a friendship with Bill Brooks, an anti-aircraft gunner with the Royal Artillery serving on the south coast of England at the height of the Blitz…
Dragoon Serenade
Will "Hibou" be able to concentrate on the most important mission, or will his love for Simone lead to a moment's carelessness that could be their undoing?
On a dark night in July 1944, Special Operations Executive agent, Simone rows ashore from a submarine at the small fishing town of Golfe-Juan on the Côte d'Azur. She meets the Resistance Leader code name "Hibou" with whom she had a romantic affair during a mission in northern France several months previously. Once again, they engage in subterfuge operations against the German forces in the lead up to the Allied landings, code-named Operation Dragoon, scheduled for the following month…
PUBLISHER NOTE: M/F Historical Romance book combo, with a total of 61,000 words.
Available from Amazon HERE