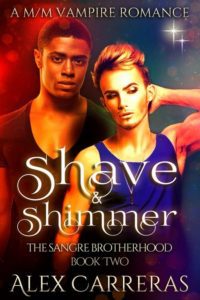 Happy release day to Alex Carreras with Shave & Shimmer, the 2nd story in the M/M Vampire series, The Sangre Brotherhood.
Tory Whitmore was tired of dating the wrong vampires, so he agreed to allow his friend Asher Riots to play cupid.
After a great first date with hot and hunky barber, Ray Williams, the two head back to Ray's for some much-needed adult pursuits. But when the chips are down, and pants are too, Ray chills as Tory heats up. Rejected and discouraged, Tory wants to forget the date ever happened, but things change when he learns the reason behind Ray's cooling jets.
Tory gives Ray a second chance and falls deep under the spell of the heartbroken vampire.
But when Tory sees how bloodthirsty Ray gets when fists fly and fangs get bared, will it destroy any chance they have of a future together?
PUBLISHER NOTE: A M/M Vampire Romance. Although Shave & Shimmer is a complete romance, we recommend reading The Sangre Brotherhood series in the numbered order for maximum enjoyment.
Available to download here…  CLICK HERE