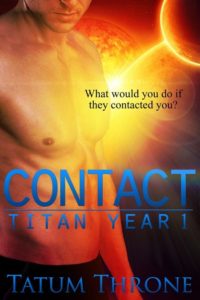 Happy release day to Tatum Throne with her book, Contact (Titan Year 1). Contact is a delicious introduction to a gay romance between a human, called Cooper Hart, and his alien abductor, Elian Moten.
What would you do if they contacted you?
NASA scientist Cooper Hart is dying. He's determined to spend his final days hoping to hear a signal from a far away world. When the encryption first comes in, he quickly discovers that this isn't a prank. They want to meet.
Elian Moten has spent the last four years searching for a life form compatible to his. His world is dying from the lack of ability to reproduce. They need males to repopulate. After researching the planet within the Benidi Region, also known as Earth, he chooses Cooper Hart to bring back to the royal family. He isn't prepared for the intense attraction he feels for Cooper or the overpowering urge to claim him.
After three months aboard the Titan, Cooper wakes up to discover he isn't dead. He's been given a second chance, but he's not sure if he's prepared to take it. When he looks at Elian, he only knows how to say yes.
Reader Advisory: Sci-Fi MM erotic romance, containing consensual relationship between human and alien. Light BDSM, spanking.

Available from all good distributors and Luminosity HERE
A huge congratulations to Tatum for achieving the best-seller list on ARe with Contact (Titan Year 1)