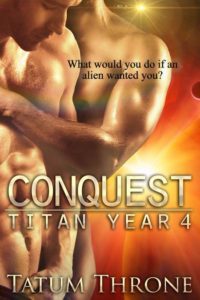 Happy release day to Tatum Throne with Conquest (Titan Year 4). Already an ARe bestseller, Conquest (Titan Year 4) is a wonderfully written gay sci-fi romance. The Titan Year story follows several alien commanders as they battle to stay one step ahead of the Royal Family, a brutal and oppressive regime from their home planet of Turitan.
What would you do if an alien wanted you?
As the Torrent's commander, Ezekian Rewn has a secret he's been keeping since the day he came out of the tanks. He doesn't carry eggs. He carries sperm. Keeping the secret has meant a life without companionship. Everything changes the moment he sees an Earth male for the first time. He wants him.
Bartender Dean Montero hasn't seen his brother Jaxon in years. When he shows up unannounced at his bar with two men, Dean knows something is very wrong. Jaxon tells him an unbelievable story of contacting aliens and pleads with him to go with them. Should he go?
With the Royal Guard after them, Rewn is forced to make sacrifices that will impact the lives of everyone. With Xand's twins on the way, Rewn is caught between his world and the male he loves. Rewn must choose only one.
Reader Advisory: This book depicts really hot alien sex and male pregnancy. 
Publisher note: This is Book 4 in the Titan Year story. While each book is standalone, there is a story arc continuing throughout the whole series.
Available from all good distributors and from Luminosity HERE