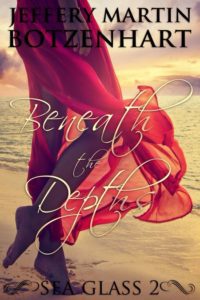 Happy release day to Jeffery Martin Botzenhart with Beneath the Depths the 2nd story in the Sea Glass series. This is a tale of lost love, intrigue, passion, and romance…
Beware of the seductive beauty of a mysterious woman who at times mirrors the lethal allure of a dangerous shark.
Mistaking the identity of a young American architect for an American DEA agent, a beautiful English spy's seduction of an innocent man leads to his abduction. Amidst the tropical paradise of Tobago, she regretfully thrusts him into a world of drug cartels and international intrigue.
Forced into aiding with the recovery of a treasure at rest within the ocean depths, the young man must endure the dangers of shark-infested waters and the desperation of a drug lord. He also is torn by his feelings for her. Was her attraction to him genuine or was he simply a pawn in a treacherous game?
This unanticipated attraction between them threatens to expose not only her cover but also her true self, hidden away so very long ago.
Will she forsake duty and risk all to save him or will she allow her soul to remain buried beneath the depths of her heart?
Available from all good distributors and from Luminosity HERE